In the realm of entrepreneurship, continuous learning is vital. At VoicePing, we understand that the pursuit of knowledge never ends, especially in an ever-evolving landscape like the tech startup ecosystem. This understanding recently led us to a transformative week at the Seed Bootcamp under the auspices of Accelerate Aichi. 
This article delves into VoicePing's enlightening experience as a participant in this program. As we explore the intricacies of this immersive program, we uncover the valuable insights, growth opportunities, and profound impact that the Seed Bootcamp had on VoicePing's trajectory.
First, a brief introduction to Accelerate Aichi. This is a collaborative effort of 500 Global and the Aichi Prefectural Government, its aim is ambitious and commendable. Accelerate Aichi's vision revolves around fostering a thriving startup ecosystem in Aichi. They work to lay down a resilient foundation where startups can find their footing, learn, evolve, and eventually spread their wings to global platforms. 
When VoicePing was chosen to be part of this journey, it wasn't just an opportunity; it was a responsibility. A responsibility to absorb, learn, implement, and then to give back to the ecosystem that nurtured us.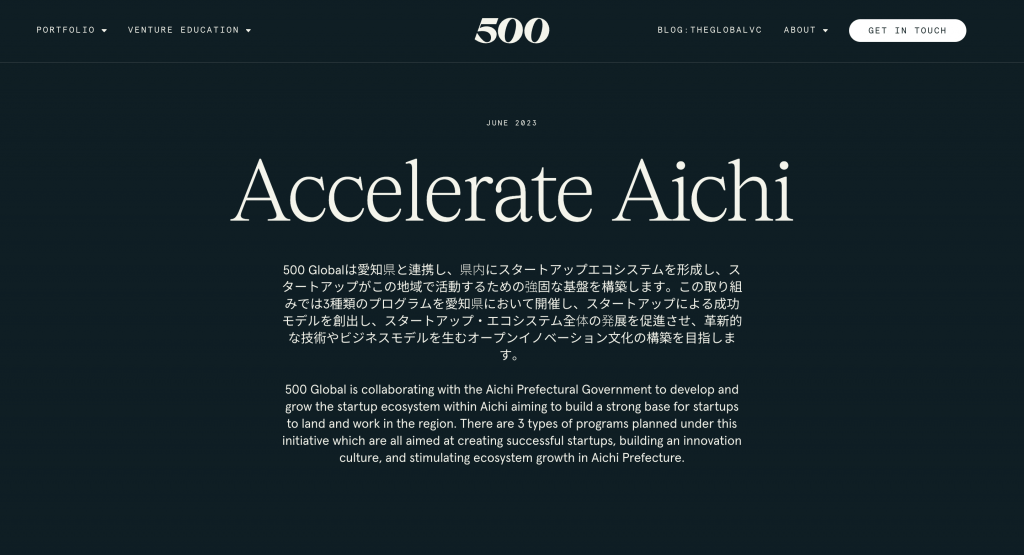 Empowering Through Mentorship
One of the pivotal aspects that sets the Seed Bootcamp apart is the invaluable guidance provided by experienced mentors. These mentors, distinguished by their roles as founders and their diverse industry experiences, offer a unique blend of knowledge, wisdom, and practical insights. 
With deep-rooted expertise spanning across the US, Japan, and South East Asia, these mentors offer founders a roadmap for navigating the intricate world of startups. Their coaching prowess, coupled with their distinctive personalities, inject a fresh perspective into the startup journey, empowering founders to refine their strategies and envision new horizons.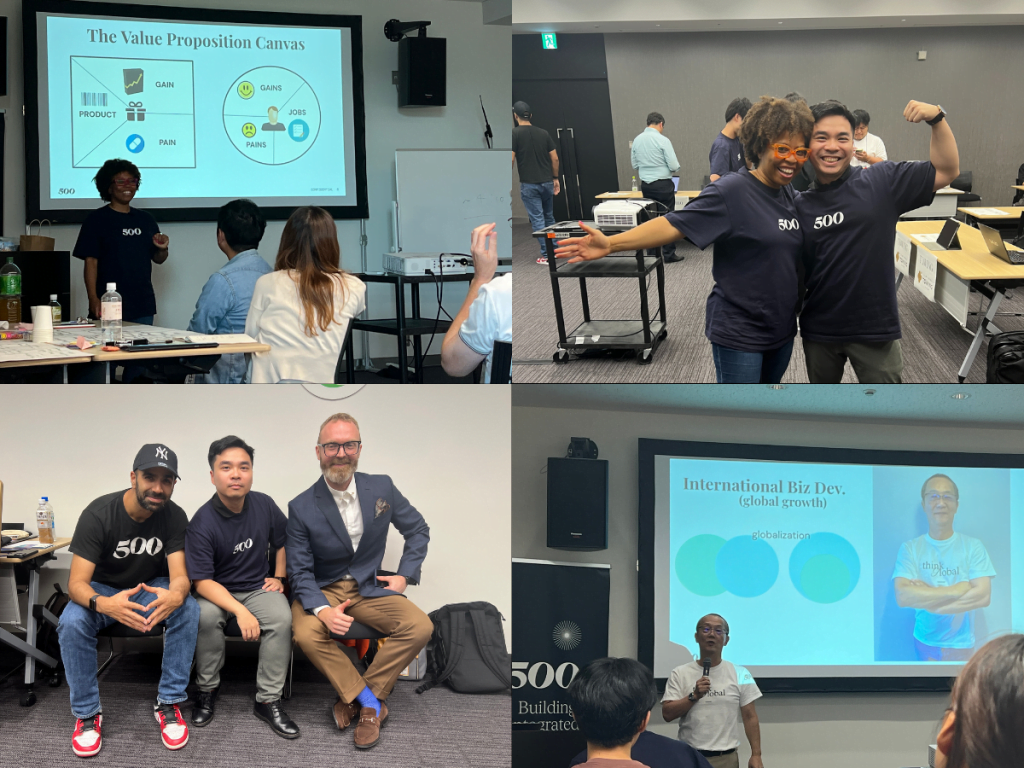 A Melting Pot of Innovators: The Power of Diverse Founders
VoicePing's participation in the Seed Bootcamp marked its inclusion in a carefully curated cohort of 14 innovative founders. Hailing from various corners of the world, these entrepreneurs converged in Japan to establish their startups and create a vibrant tapestry of experiences and insights. 
From B2B to B2C services, their ventures spanned a diverse range of industries including sports, wellness, robotics, and social networking. This eclectic mix of backgrounds not only enriched the learning environment but also fostered cross-pollination of ideas, igniting creativity and mutual growth.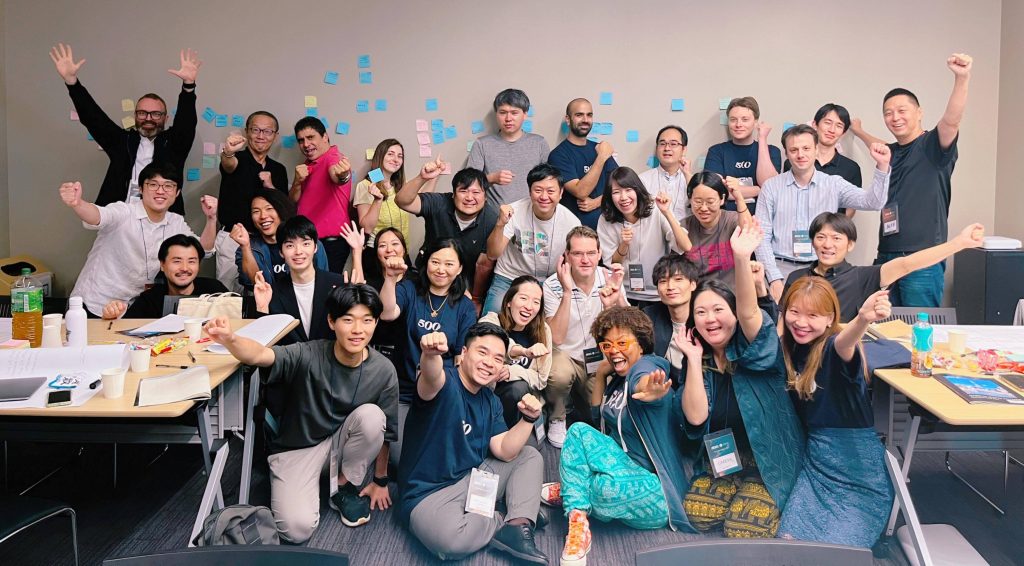 A Comprehensive Curriculum: Nurturing Holistic Growth
At the core of the Seed Bootcamp's impact is its meticulously crafted curriculum. Spanning five intensive days, this program guides participants through a journey of self-discovery, skill enhancement, and strategic refinement. 
The interactive workshops, led by mentors and fellow founders, cover a spectrum of critical topics. From crafting a concise and impactful one-liner that encapsulates a startup's essence to understanding the profound social and emotional impacts of products on customers, every aspect of startup growth is addressed. 
By delving into areas such as customer discovery, creating an ideal customer profile, and devising effective lead-generation strategies, participants are armed with actionable insights designed to catalyze their businesses' growth.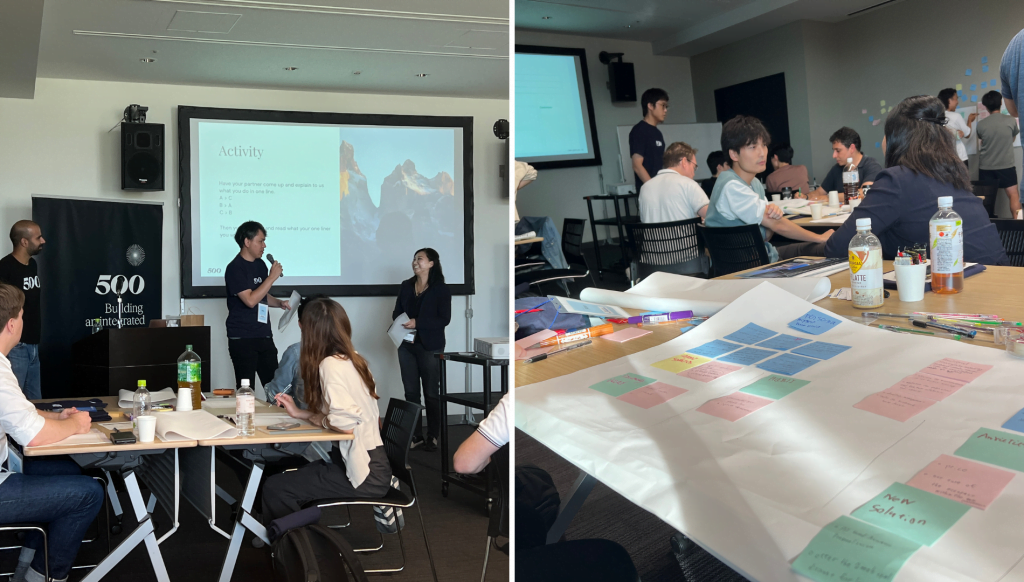 Transformational Evolution: From Pitch to Performance
The journey of VoicePing through the Seed Bootcamp was marked by a profound transformation in how we presented their product. What began as a five-minute introduction, laden with complexities, evolved into a succinct 90-second pitch that resonated with audiences. This transformation was not only a testament to our improved communication skills but also translated into tangible results.
The heightened clarity of our pitch led to an increase in interest in our product among participants, demonstrating the direct correlation between effective communication and business growth.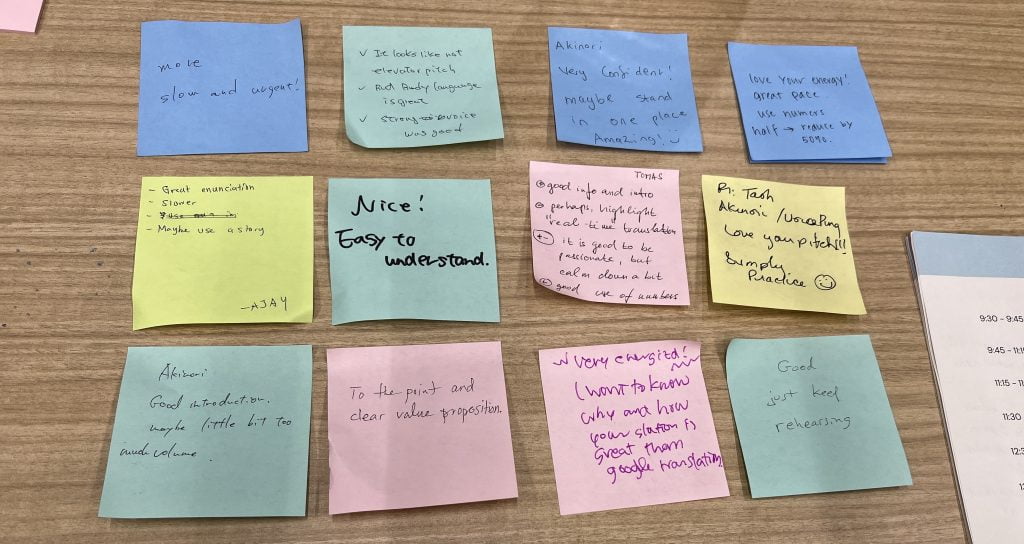 Real-World Validation: From Vision to Reality
Among the many transformative moments of the Seed Bootcamp, one stands out distinctly: the opportunity to engage with real customers from the Aichi Prefecture. VoicePing's innovative voice translation capabilities left an indelible mark on these customers. 
The technology's remarkable speed and accuracy, even amidst noisy surroundings, were met with awe and appreciation. This real-world validation served as a powerful reminder of the potential impact that startups can achieve. As VoicePing witnessed firsthand the positive reactions to their innovation, their determination to excel was further ignited.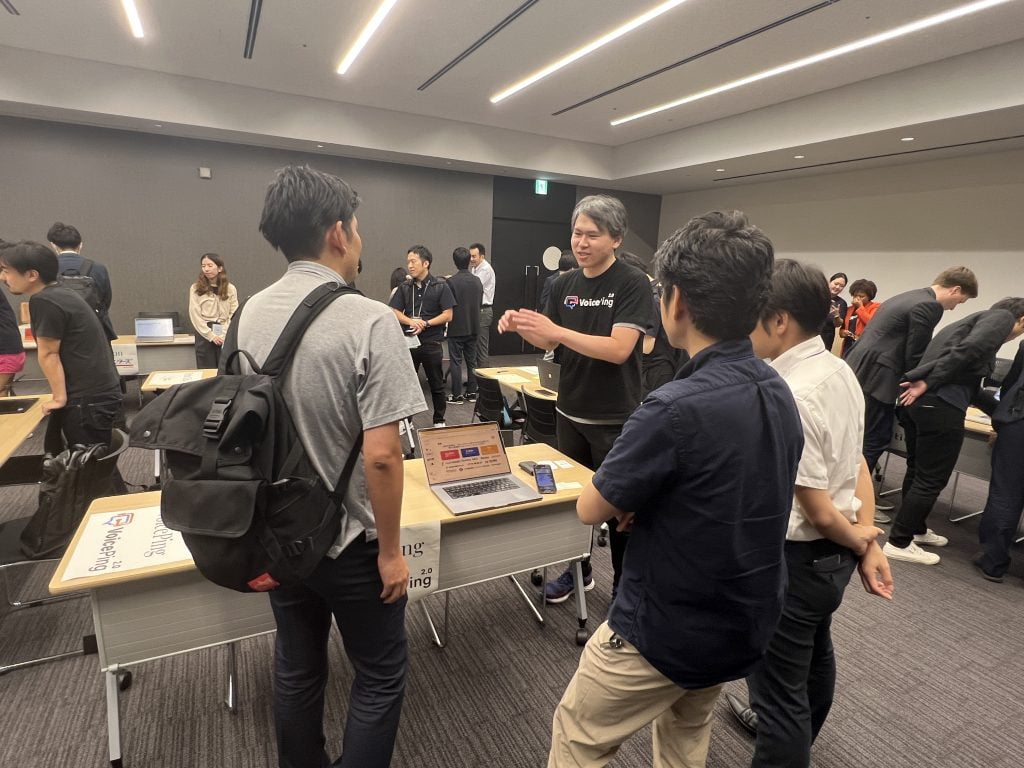 Key Takeaways for Startup Success:
The Seed Bootcamp experience offered a treasure trove of key takeaways that can guide startups toward a trajectory of success:
Holistic Impact: Going beyond the functional aspects of products, startups must consider the profound social and emotional impacts on clients, fostering a deeper connection.
Emotional Connection: Integrating emotional and social aspects into product development creates a unique selling point that resonates with early adopters and amplifies exposure through social media.
Strategic Engagement: Prior preparation of questions while considering customer backgrounds enhances insights, enabling startups to leverage strengths and address pain points effectively.
Global Mindset: Embracing a global mindset entails adaptability to new challenges and a keen awareness of international markets, enabling startups to seize emerging opportunities.
Concise Pitches: Crafting one-line pitch sentences that are easily comprehensible, emphasizing key points, and maintaining a confident tone is pivotal in capturing attention.
Impactful Presentations: Whether in a 90-second or 5-minute pitch, clear communication of member appeal and unique selling points, devoid of jargon, ensures engagement with diverse audiences.
Strategic Focus: Amidst multiple user personas and use cases, prioritizing the core idea expedites the achievement of Product-Market Fit (PMF), a crucial milestone for startups.
Strategic Metrics: Tracking one or two key metrics weekly, with a clear rationale for their importance, guides strategic decisions and measures progress effectively.
Effective Go-To-Market Strategy: A comprehensive Go-To-Market strategy encompasses an understanding of competitors, the current market landscape, avenues for growth, accessibility, and reachability.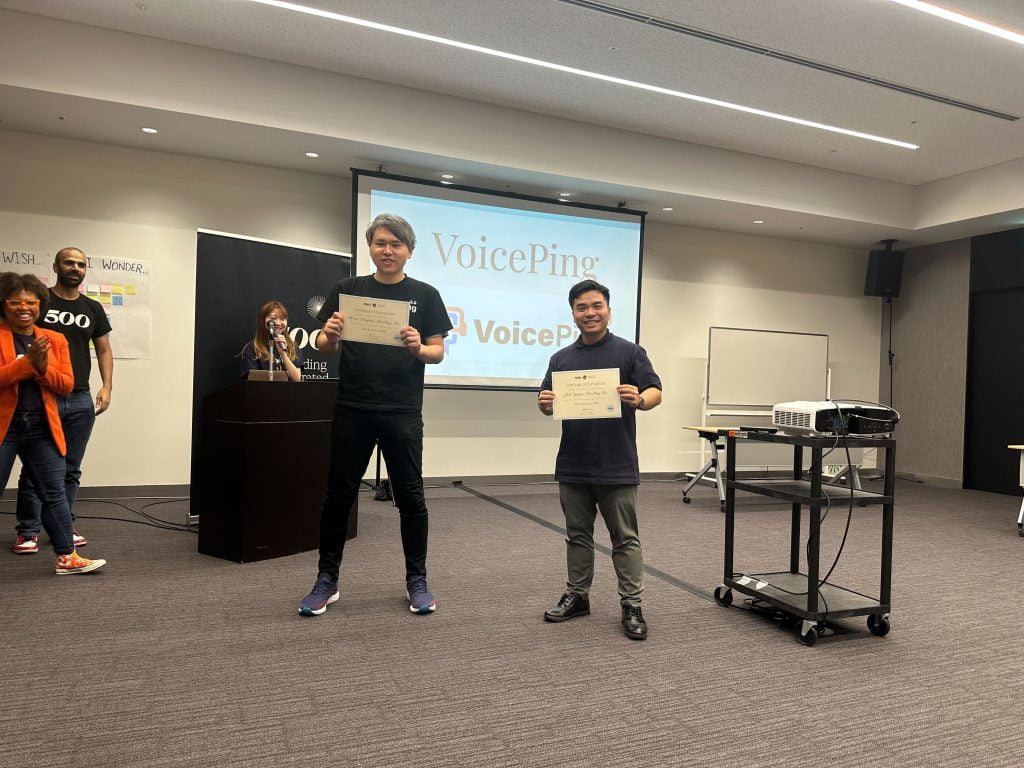 In Closing: A Journey of Gratitude
As we reflect on our week at the Seed Bootcamp, it's not just the lessons learned or the techniques acquired that stand out. It's the people, the connections, and the realization that we're a small part of a vast universe of innovation.
Our heartfelt thanks go out to Accelerate Aichi, the mentors, the Aichi Prefectural Government, 500 Global, and our fellow founders. While the future is uncertain and challenges will arise, armed with the knowledge and support from this week, we at VoicePing feel more prepared and grounded.
As we continue our journey, we hope to honor the trust and knowledge invested in us, making not only our product but the entire Aichi startup ecosystem shine on the global map.
FYI We are hiring!!!
VoicePing is currently looking for AI engineers and web development engineers. If you want to work with cutting-edge language models (ChatGPT, GPT3.5 Turbo…etc), high-performance speech recognition (Whisper…etc), create translation models, or design, develop, and operate complex, high-performance web development applications, please contact us casually. Please contact us casually.