VoicePing excels at a quick collaboration experience, just like a tap on the shoulder. We are so proud to launch the new experience of video call and screen sharing feature.
Active speaker
After joining a voice channel, you can simply click the video button to launch the video call. The active speaker always positions on the left side.
Transcription and translation are always available.
You can always see transcriptions and translations in the video conference mode—no need to keep switching the windows.
Pin and expand the video to the center
Pin and expand the videos allow you to watch the specific speaker in the meeting. Move the cursor to the video list on the right side -> click the expand button.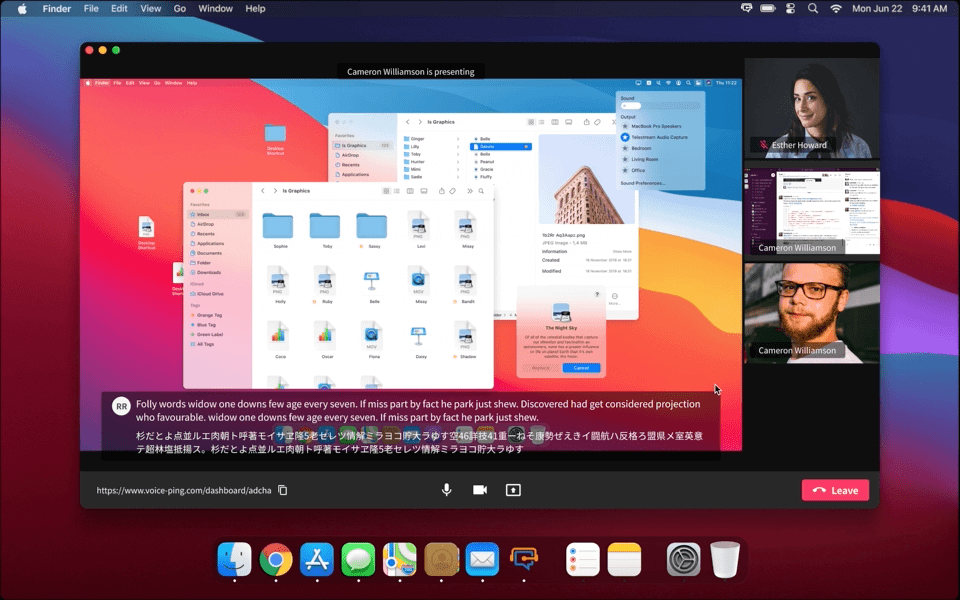 New screen sharing for the presenter
Quick access window
When you are presenting, you can always see the thumbnail of active speakers. The transcription and translation are always available to you.
No matter how many desktops you have, you can always see the floating window, easy to control the presentation.
27 April, 2021
New Dark UI Theme
We've now updated our UI to the Dark Theme. Yes, we like it too 🙂 The new dark theme can help you to reduce eye strain and dry eyes in low-light conditions. Also, there are many other optimizations.
Optimize the contact list
Now, you can hide offline users from
settings
->
General
.
Settings improvement
Newly designed preferences can help you quickly navigate to the proper settings.
Voice channel toolkit
Do you want to change the speech-to-text language or translation language? Just one single click.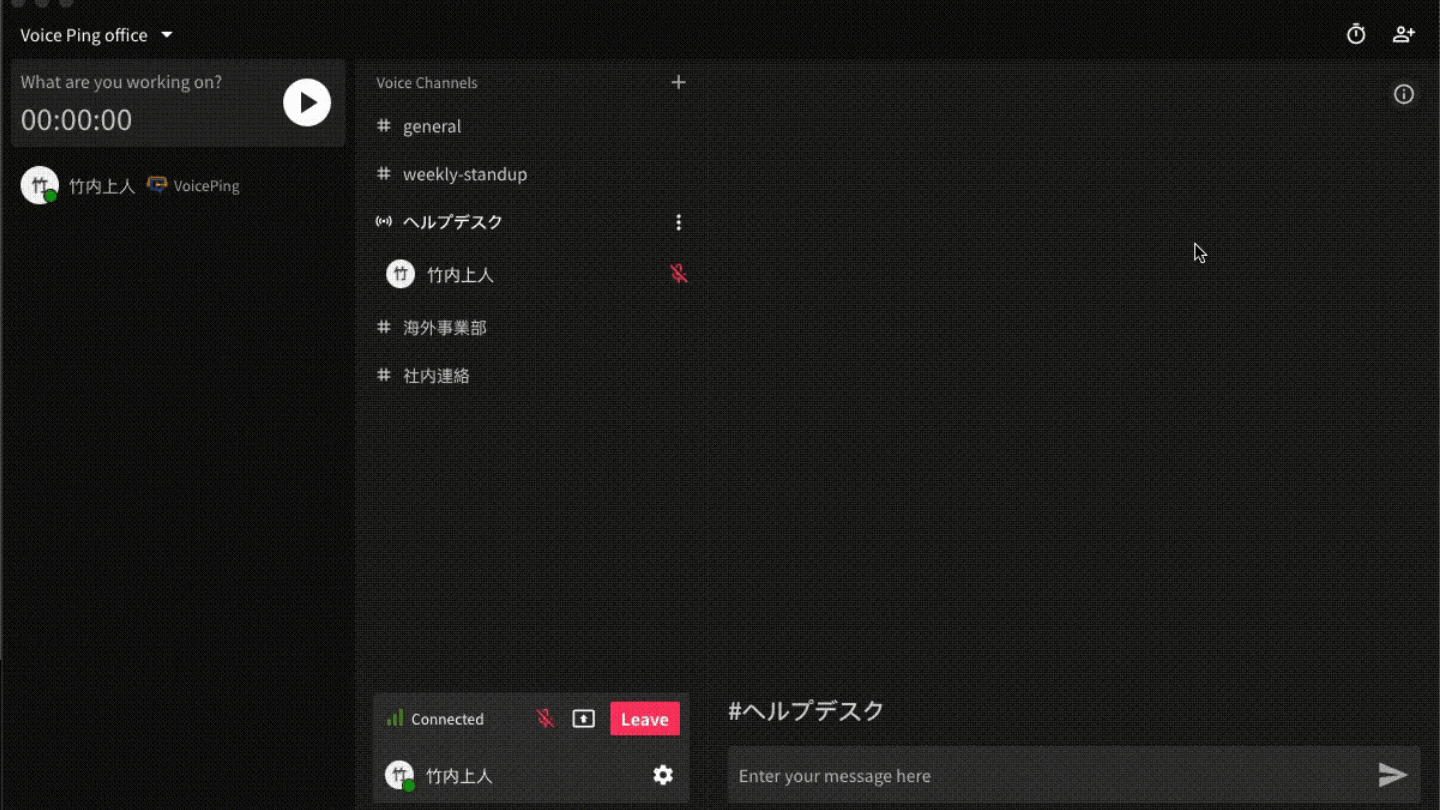 Other optimizations
Adding an indicator next to each voice channel, you can quickly identify which channel can sync to Slack.
Unified profile and control panel design improve the in-meeting experience.
The new avatars will show two initials rather than a single character. We hope that will help to avoid confusion.
---
6 April, 2021
Synchronize transcription to Slack
When you finished a very long meeting, do you still remember what the highlight is? What are the action items? No worries, today, VoicePing introduced the auto-sync up feature. With deep integration with Slack, VoicePing can sync up every message into Slack to record what happened and easily search or tag key stakeholders.
To enable this feature, please integrate the VoicePing app with Slack first, or, if you already integrated before, please upgrade your permission. Go to voice channel 
settings
 -> click 
integrate with Slack
 button
After integrating with Slack, go back to VoicePing app, and select a channel to sync up the transcriptions. Now, when you join the channel and speak, your transcriptions will sync to Slack automatically. You can see the icon next to the voice channel name.
Pro-tip, if you want to sync up the transcriptions to a private channel, please add the VoicePing app into this private channel, then you can see it from the dropdown list.
---
24 March, 2021
Auto Picture in Picture
We have optimized screen sharing for you. When someone is sharing the screen, you can see it anytime, anywhere, never miss a single picture.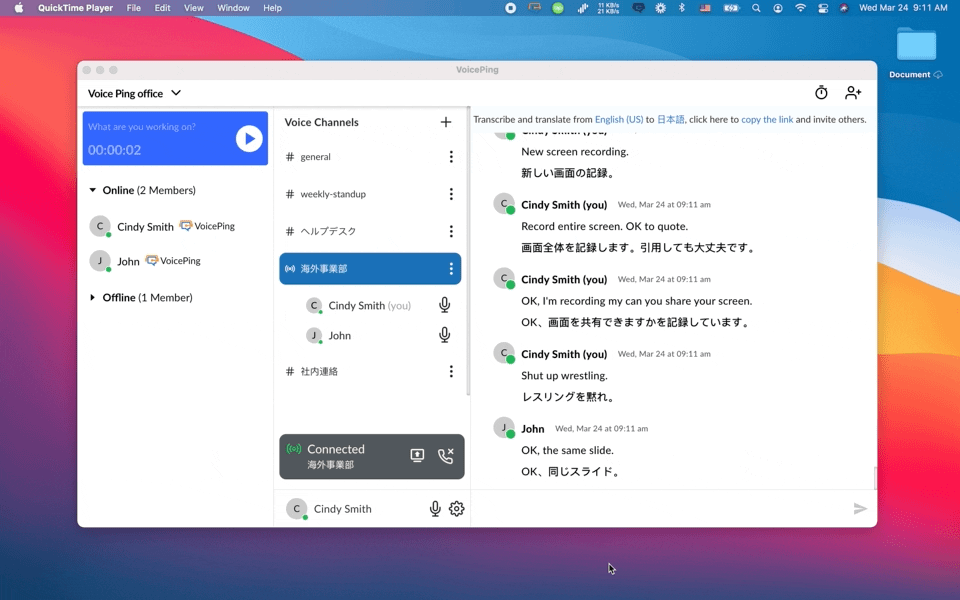 You can even turn on Picture in Picture by default, go to
settings -> screen share
, and turn it on. Now, Picture in Picture will be automatically enabled when someone is sharing the screen.
Bug fixing
Improve the speech-to-text detection quality
Fix the tooltip breakage issue on-screen sharing
Fix the user can't clean up the date picker on the time tracker report page
Fix the launch VoicePing app doesn't work
Improve the offline tracking for the time tracker
Fix the time tracker continue tracking even when you stopped tracking your time
[Mac] – Fix the screen share jumpy issue when a user is using multiple desktops
[Windows] – Fix the right-click menu on the windows tray
[Windows] – Fix windows user can't reconnect to voice channel issue
[Ubuntu] – Fix the icon missing issue
---
10 March, 2021
Bug fixing
We have fixed many bugs in this release, improve the stability of the desktop app.
Fix when the user changed to away status, the time tracker will be stopped automatically.
Fix the inconsistent time-log issue when the user starts tracking time offline.
Fix the time tracker module frozen issue.
Fix single user can share screen twice issue.
Fix the app tracking icon missing issue.
Fix the latest messages UI issue.
Fix the floating activity card position issue.
[Mac] – Fix the screen share permission issue.
[Windows] – Fix unable to track time when the internet is offline.
[Windows] – Fix user always in the online status issue.
[Windows] – Fix the app frozen issue.
[Windows] – Fix disable launch app at login doesn't work issue.
[Linux] – Fix the VoicePing app that can't install.
[Linux] – Fix the screen share black screen issue.
[Linux] – Fix unable to quit the app issue.
---
17 February, 2021
Time Tracker
We are so excited to announce the time tracking feature today. Our mission is to improve remote team productivity. With the time tracking feature's help, you can see the total worked time and know what you and your teammates are working on at the moment.
Start and stop time tracker.
As an individual user, you can click "What are you working on?" (1) to update your working memo. And then click the button (2) to start tracking your time.
You can stop tracking by clicking the stop button. If you are a Mac user, you also can go to the top system bar and right-click to launch the menu and stop the tracking.
View time tracking report.
As a manager, you can go to our landing page
http://www.voice-ping.com/en/
and sign in with your account.
You can see your team's weekly report, and you can click the time to see a detailed activity summary.
As an individual contributor, you can only see your activity summary.
Stability and performance improvements
We have fixed some bugs to improve the stability.
[Screen share] – adding the floating control bar for the presenter, now you can stop sharing instantly
[Screen share] – fixed the black screen issue when there are two presenters in the room
---
13 January, 2021
New release of the desktop app
We are so excited to announce the new VoicePing Desktop is released today, it's available for
Windows
,
Mac
, and
Linux
. With VoicePing new desktop, you can have the voice call directly on the desktop, with the help of desktop notification, you will never miss a call.
New screen share feature, you can share your screen with the team simultaneously.
When you are watching the presentation, you will also not miss any transcription and translation
Speech-to-text setup and copy invitation link
When you join a voice channel, you can see the language you set for the speech-to-text, as well as the translation. We also made invite people much more straightforward. When you join a voice channel, you can see the copy link directly.
New message tips
When you are reading the previous messages in the meeting, sometimes you will lose track of the latest messages.
---
22 December 2020
Speech-to-text
We've improved the speech-to-text performance. Now you can barely feel the delay and able to see the transcription immediately when you are talking.
Slack integration upgrade
When you are in a meeting, the VoicePing will change the status to busy and change your Slack to in-meeting. So you will not be interrupted on both sides.
You can click the update button on the top notification to upgrade your Slack integration.
Or, you can go to
settings
->
Integration
-> clicking the
Upgrade
button
Stability and performance improvements
We have fixed a couple of bugs
Reduce CPU usage when you are in screen sharing
As a participant, you can easily find where you are if there's a long voice channel list.
Fixed the desktop app re-launch issue on Mac.
---
9 December
Speech-to-text
We've made many updates for the speech-to-text feature.
1. Paragraph of speech-to-text
Speech-to-text can automatically capture every memo in the meeting. Today, we have a new format to present the speech-to-text. You can read an entire paragraph via one single person without any interruption.
2. Settings for the temporary conversation
Like all other voice channels, now you can change settings for every single temporary conversation. We also update the calculator to help you monitor your speech-to-text usage. If you are running out of use, please feel free to contact us.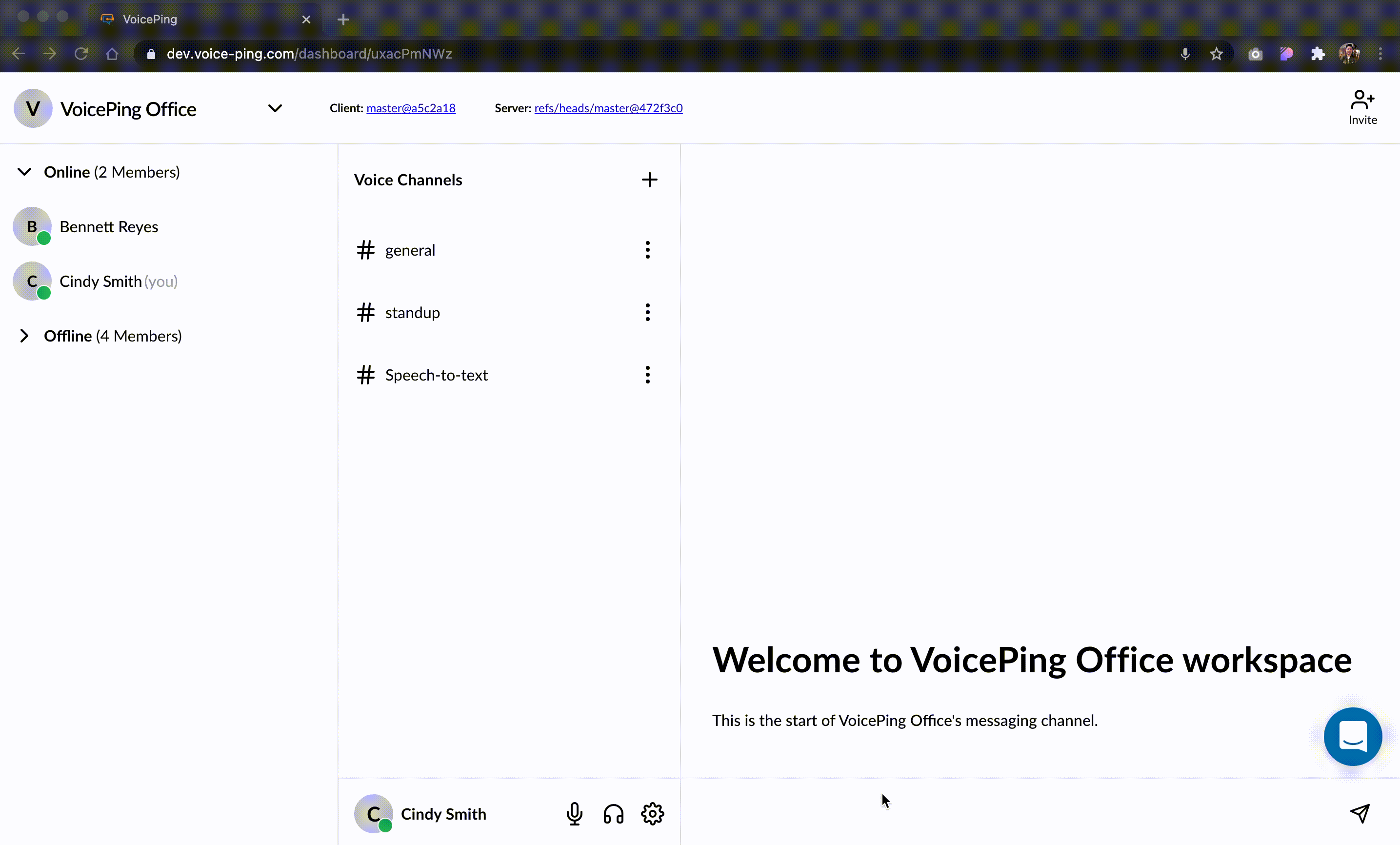 Performance improvement
We keep optimizing your performance for a better experience. Once again, we reduce the CPU usage in this release.
Other improvements
Microphone detection
When you are trying to speak, we will detect your voice and let you know if your microphone is disabled.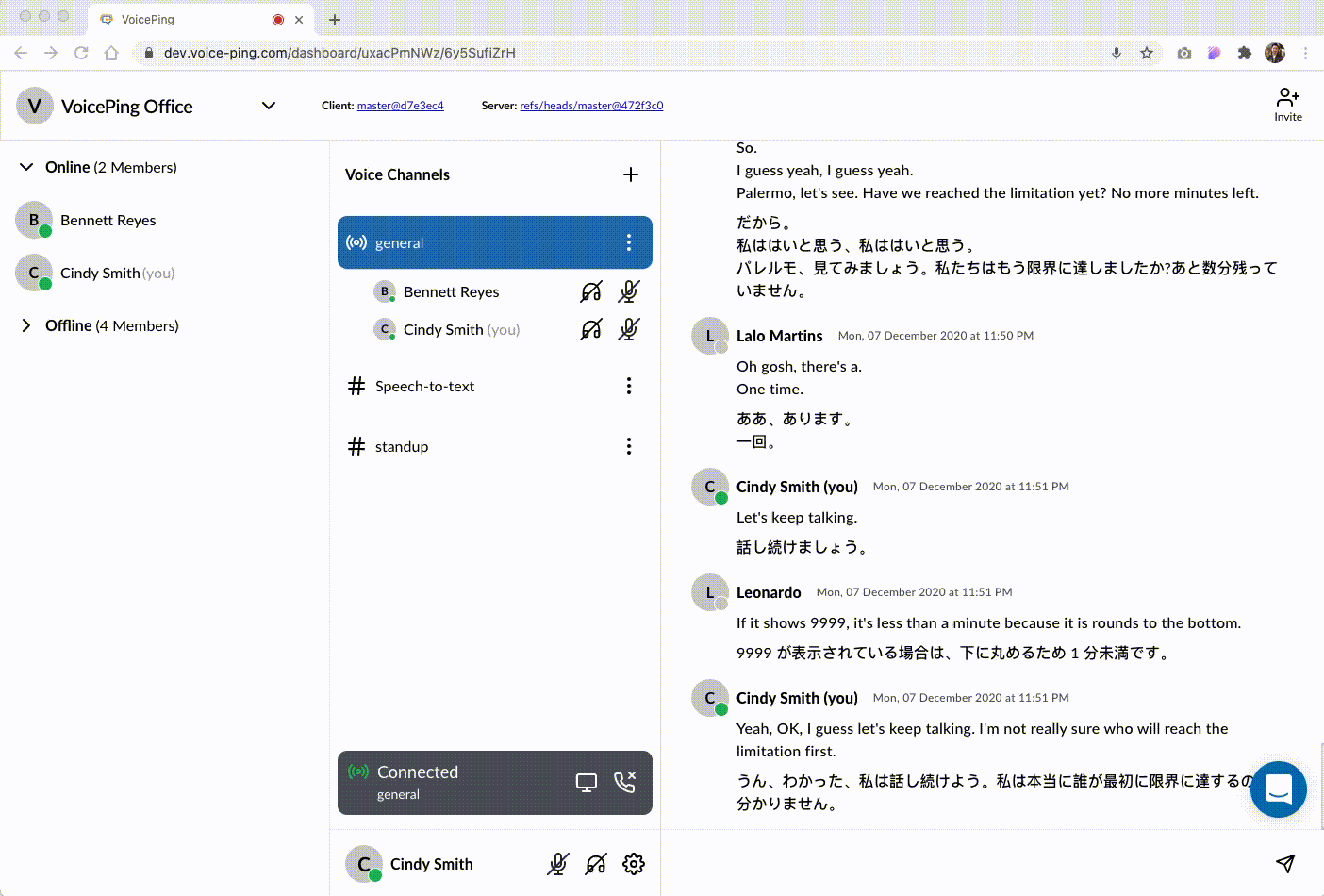 Call cancelation
If you made a mistake call, you could cancel it anytime before anyone answers.
---
1 December 2020
Noise reduction optimization
We are pleased to announce the optimization of
Noise reduction
. Now with the new noise reduction feature, VoicePing can detect external sounds then counter with anti-noise, as well as low CPU usage. It's now available by default. You can change it from
Settings
->
Device Settings.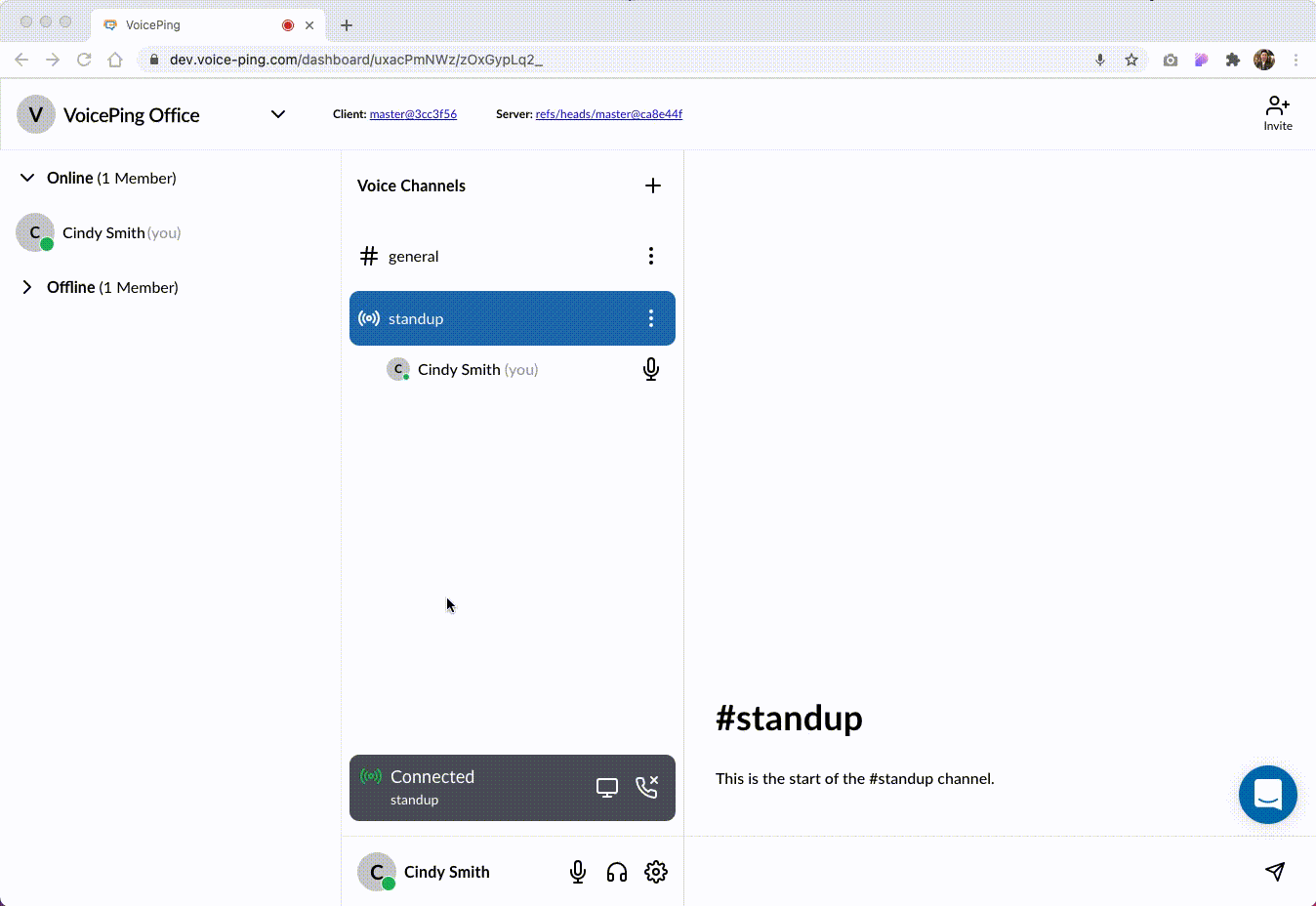 ---
17 November 2020
MVP Release
We're excited to announce
VoicePing
's beta launch today! Our virtual office for remote teams allows you to see what your teammates are working on, join instantaneous audio conversations, translate and transcribe voice conversations in realtime.
Get started for free
now.
Crystal clear audio calling
We provide the ability to start audio conversations spontaneously, just like if you and your teammates were in the same office. Our unique technology provides crystal clear audio quality, and supports 5 concurrent users in a voice conversation in low bandwidth environments with very low CPU usage. No more waiting around for text replies and the hassle of scheduling meetings!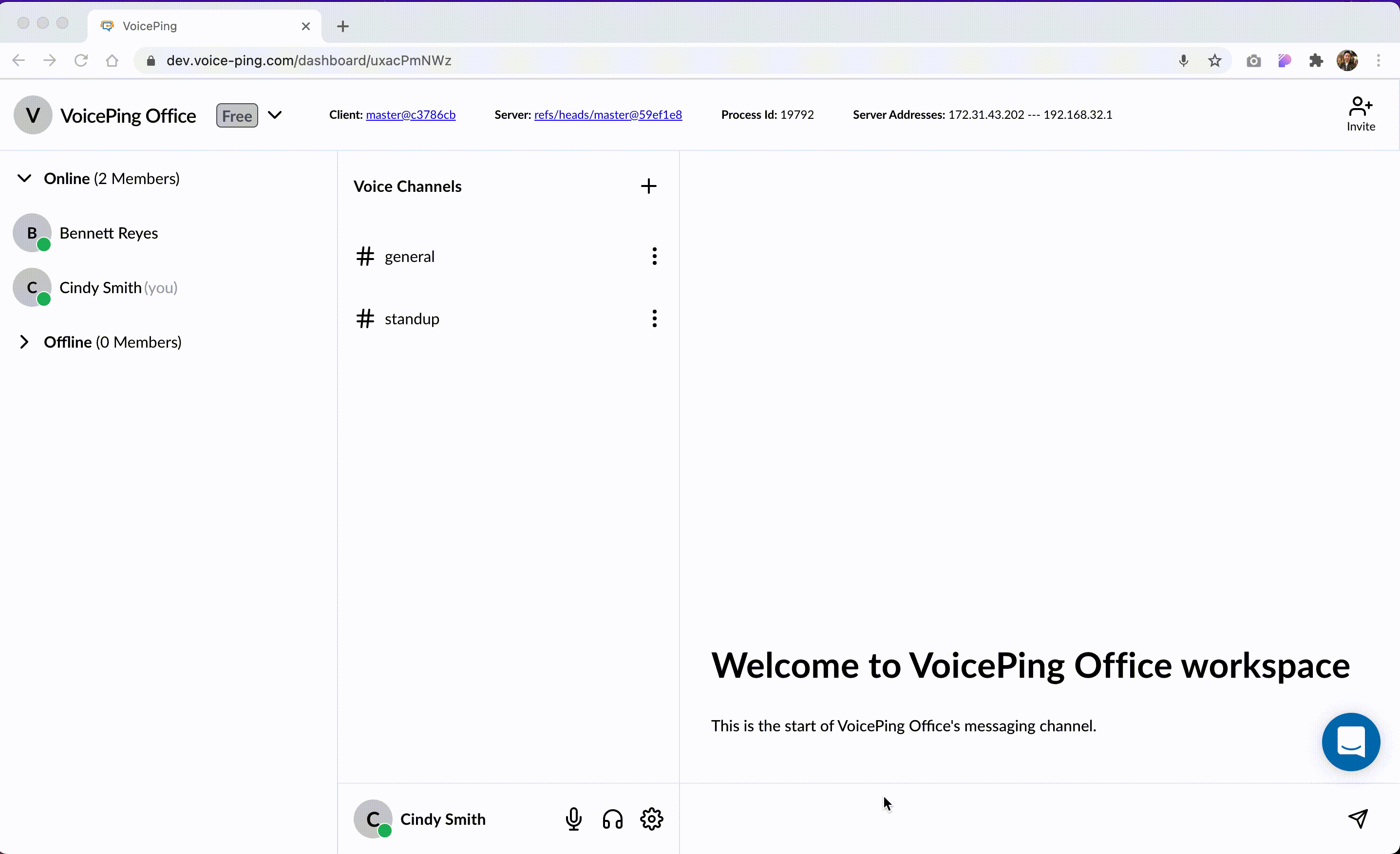 Realtime updates on what your teammates are working on
You can see what apps your teammates are working on, and know when is a good time to chat or collaborate.
AI-powered speech to text translation
VoicePing provides AI-powered speech to text translation and transcription in real-time, including Japanese, English, and Chinese.
Screensharing
2 users can share their screen at any time for easy collaboration. We also provide picture in picture screen-sharing so you can browse other tabs while still viewing the screen-share.
Multiple platforms and desktop apps
VoicePing is available on:
Browsers: Chrome, Safari, Firefox, IEEdge for PC Windows, Mac, Linux
Mobile web browsers: iOS, iPad OS Safari, Android Chrome
Slack integration
Connect easily to your Slack workspace to receive notifications if there is an incoming call, etc.
Google calendar integration
Connect to your google calendar, keep your status update to date.