What is Time tracking?
Time tracking at its core is keeping a tab of how much time & where is it getting spent by your employees. Such software(s) are generally used by freelancers, contractors, or 100% remote teams for productivity monitoring, budget & cost management.
Based on the team's unique needs, the project manager can decide the level of comprehensiveness offered by the time tracker – be it as simple as just logging in working hours to something as complex as recording keystrokes, URLs & taking screenshots of their screen.
Criteria for choosing a time tracking software
Comprehensiveness 
Do you want to record everything from URLs to Screenshots, possibly even webcam pictures along with beautifully laid out reports coupled with invoice generation? Or do you just want something as straightforward as a simple time tracker – that… well, just logs time!
Cost
Time trackers charge differently, many have a straight plan that limits the number of users you can add VS many end up charging per user in your workplace. The latter can end up being quite expensive if you end up having a lot of people work for you.
Top 10 Best Time-tracking Tools
VoicePing
VoicePing is an all-in-one application, that provides you with voice/video calls, a workspace, and time tracking in one package — all of these are outright necessities in most 100% remote organizations!
Unique Features
VoicePing relies on your employee's usage of keyboard and mouse to determine whether or not they are active
Manager dashboard panel for viewing reports of all members
Activity board for members to view their own logged activity
Other team-mates can see how long you've been working + what you've been working on.
Pricing
VoicePing is currently free for one year, offering the enterprise-grade plan and after that – it's 500 yen (Roughly $4 USD) per person!
Sign up by visiting app.voice-ping.com
---
Clickup
ClickUp is in a broad sense, an application that provides end-all-be-all solutions to teams sticking to a strong agile approach. Be it issue tracking or time tracking, it's a combination of all these solutions that an agile team would need under one roof.
Unique Features
Click up can quite literally integrate with many of the other time trackers in this list, this reduces your transition over to click up!
You can track time for the browser, from the desktop app or even your mobile!
It has a time estimation feature – this further helps you plan out your team strategize tasks
Pricing 
On the looks of it, the FREE plan seems enticing however the limited (100MB) storage is a huge bottleneck. $5 per member per month would add up quite quickly and remember this is only if you sign up for the yearly payment deal!
---
Hubstaff
Hubstaff is one of the more mature solutions out there – offering a host of features from simple time tracking to offline tracking, URLs etc.
Unique Features
An achievement system for the employees, upon having more than 50% activity throughout the day or working for more than 40 hours a week, for consecutive weeks, they are given streaks and this gets emailed to them. Gamification helps employees push harder!
17 different types of reports out of the box
These + all the regular features like apps for iOS, android, GPS based tracking, reports & a whole lot of app integrations.
Pricing
Since Hubstaff is a tad bit more complicated the pricing model goes up in complexity too – however, in general, Hubstaff time & desk have the same offering starting at 0$ for one user going all the way up to 20$ for an enterprise-grade plan.
The only difference comes when you have an actual in-person fleet of people on their feet and you need some way of GPS-based tracking – the pricing there is $10 and $20.
---
Time Doctor

Time doctor as the name suggests is purely for tracking time and nothing else, the applications we mentioned previously had other features too – however, this just does one thing.
Unique Features
Integrated payments to all your employees – you can not only set the hourly rate but also have the payments done at the end of the month
If it detects excess time on YouTube, Facebook, or personal/non-work-related sites, it alerts the user with a popup. It also sends an alert when the computer sits idle for too long during working hours.
See how much time employees spend working at the computer vs. away and how long their breaks last. You can manually edit time if needed.
Pricing
Time Doctor has no unlimited free trial, unlike VoicePing that offers a lifetime free version!
With the basic plan being more expensive than VoicePing & clickup's higher-tier plans, undoubtedly this is one of the more expensive solutions out there.
---
Monday.com
Monday.com refers to itself as a work OS, where it ends up being a one-stop shop like ClickUp allowing you to plan workflows, track time, and everything in between!  It also has the features of GPS tracking, Attendance Tracking, and WebCam Shots.
Unique Features
Custom automation advancements, Excel import updates, and more!
Timeline updates in Gantt charts & other visualizations that make the overall UX better for the managers
Integrations with a whole bunch of apps including Zoom, Slack, Microsoft teams, Dropbox, etc
Pricing
As one can easily see, the individual plan while being free is very limited (only two seats) and the plan right after it is still more expensive than all the competitors listed out till now ( $8 USD) 
---
Toggl
Toggl is another old player in the time tracking suite of apps, and is rather a favorite of many. It is certainly feature-packed and offers enough to distinguish itself from the players in the game. While it certainly doesn't offer any free tier, it does offer a solid paid tier which is feature-packed and well worth the money.
Unique Features
Audits: Toggl allows time audits, essentially a fancy of just checking for logged hours that are non-consequential/shouldn't be billed, they themselves describe it as those "8-second ones that didn't get deleted or the 10-hour ones where someone forgot to stop the timer"
Employees may be required to add details regarding the time they are tracking (i.e. which project, which task, etc) unlike other trackers where adding notes is an optional feature
Custom rates per activity/project/member, etc
Pricing
For the most part, we can see the basic team plan should suffice small-medium startups, and while it isn't the most affordable one, it certainly isn't the most expensive out of the bunch either. This coupled with the host of features it offers, makes toggl well worth the money.
---
Harvest
Harvest pretty much just offers the same usual sub-set of features offered by your run-of-the-mill time tracker however – there are some factors here that might set it apart, ever so slightly.
Unique Features
Create a record of who worked on what, and for how long.
Share confidence-building reports with your clients
The reporting tab offers a rather unique insight into your expenses allowing you to dig deeper into what's actually consuming most of your team's time/bandwidth
Pricing
Sitting at $12 a user, this is surely going to be on the more expensive side of things, the decision here depends on whether those reports really bring you enough value to justify the expense
---
Everhour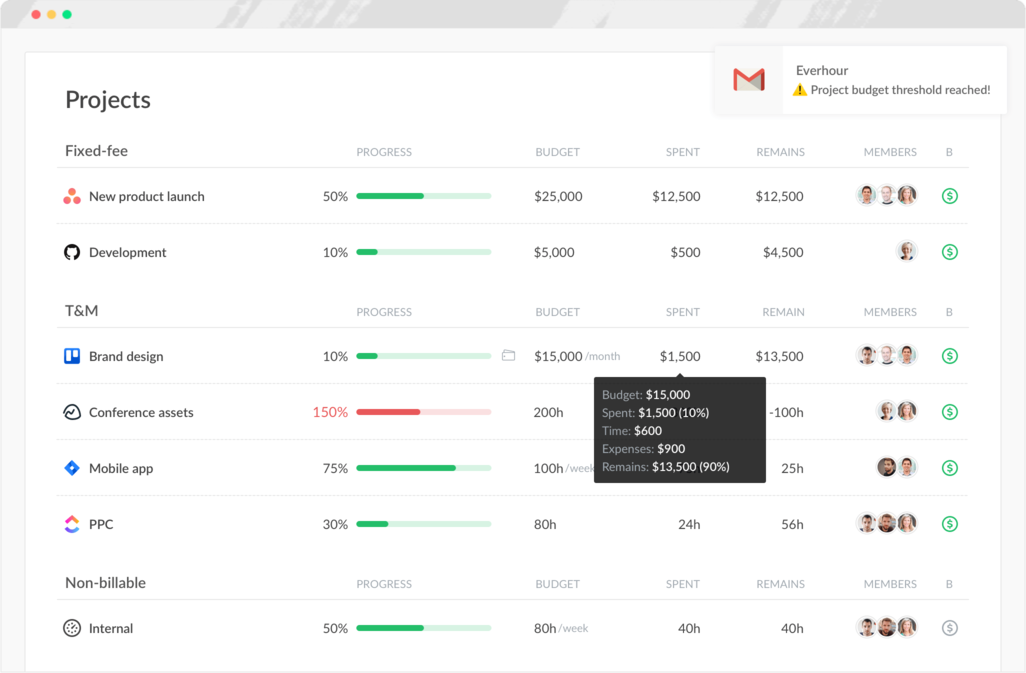 Everhour too, performs pretty much the same stuff as a normal time tracking software with very little to offer in terms of features that would set it apart from what the market has to offer.
Unique Features
Custom task rates – override the base rate for a project and assign a specific rate to each task.
Integrations with Asana, Trello, Basecamp, Jira, Github and clickup – the latter, is surprising since it offers the same set of features and a lot more.
Pricing
It offers only a limited trial with a flat fee of $10/user
---
HourStack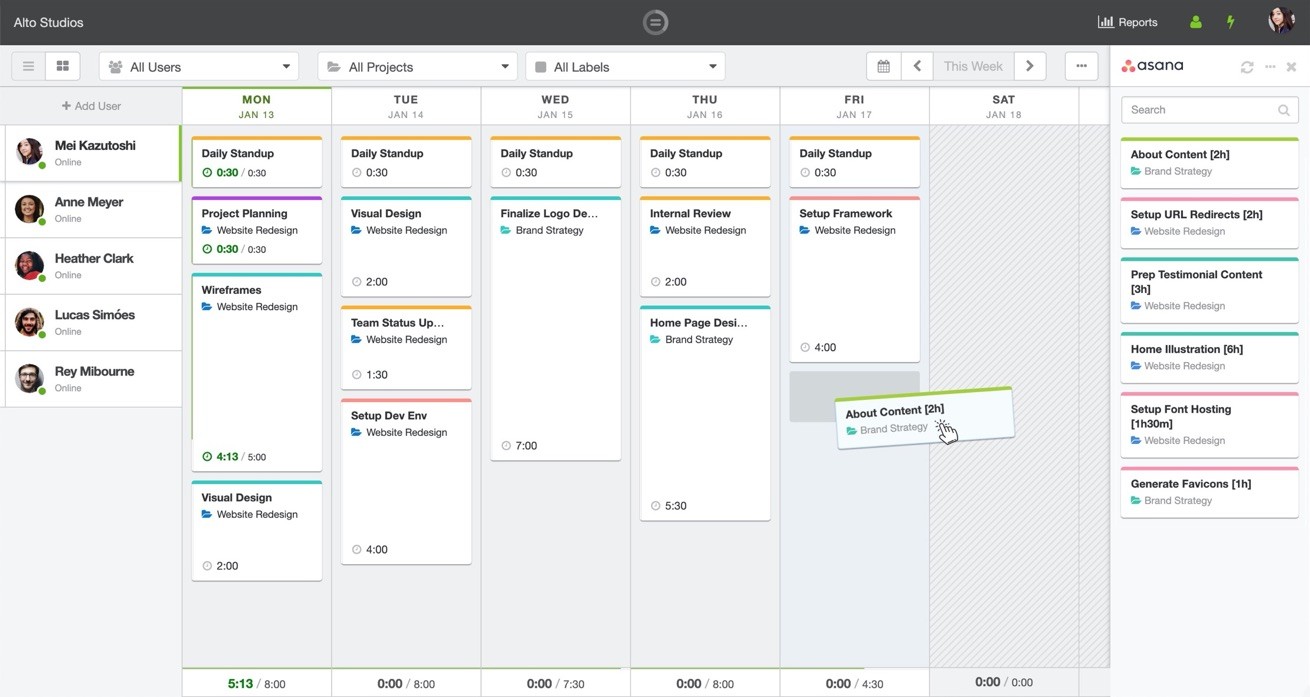 HourStack provides a transparent team view feature that lets the team see who's been working on what (and how long) – this coupled with their scheduling system that uses a calendar-based integration to start/stop timer based on activities. HourStack integrates with several productivity tools, but you don't get the option to start a timer from these other apps. Instead, you can sync tasks or calendar entries from one app into HourStack, or export and import datasets, etc. Integration options include Asana, Bitbucket, GitHub, Google Calendar, Google Sheets, HubSpot, Microsoft Office 365, Slack, Todoist, and Trello.
Unique Features
Integrates with 9+ apps
The calendar integration allows to schedule the whole team's schedule at once
Pricing
The biggest letdown is the lack of a free option to try the application out – all the options are paid, with the personal plan in fact being towards the expensive side and still being limited to a single person
---
Clockify.me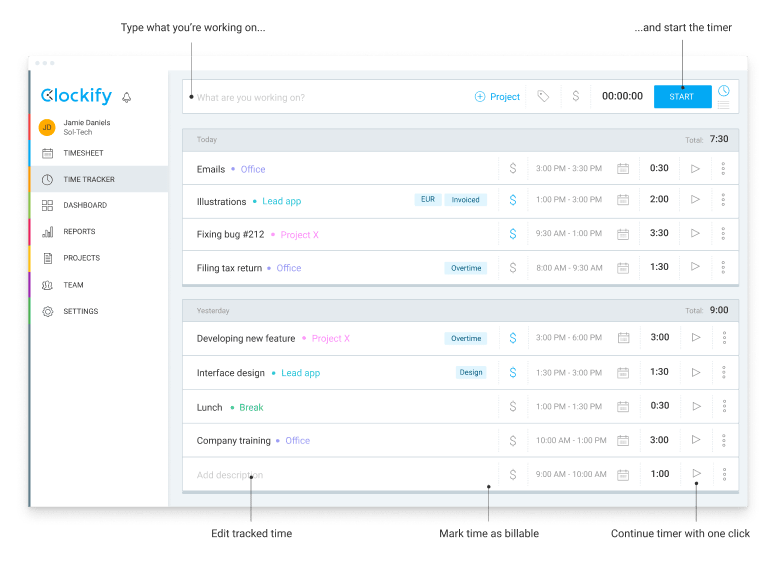 Clockify.me is a fit for startups wanting enterprise-grade time tracking at a pretty low price point. Clockify offers a very aggressive price point with pretty much every feature offered by a normal time tracker out there and then some!
Unique Features
SSO Compliant, as a result, it is truly enterprise-ready
The basic plan offers a whole bunch of utilities at probably the cheapest price point compared to every other competitor on this list
Quickbooks integration allows better invoicing
Has a lot of actual Enterprise clients, adding an additional trust layer to the firm
Pricing
As we can clockify is probably the most aggressively priced out of all the trackers we have reviewed so far. Not only does the basic version offer a whole lot of features, but you are also ensured the same grade of security that is offered to the enterprise customers.
We invite you to try out our product VoicePing, we are offering you a year's worth of FREE Enterprise-grade features – no strings attached, no credit cards required.